Noosa Melting Moments
Regular price
Sale price
$15.40
Unit price
per
Sale
Sold out
Sometimes we all need a little freshen up! With a spritz of our gentle Room & Linen spray mists, you can give your home, office or car the quick lift it needs.
Whether it's the bedroom, bathroom or throughout the house, our Room Mist is Australian Made and will bring any areas you love back to life feeling fresh.
Share
View full details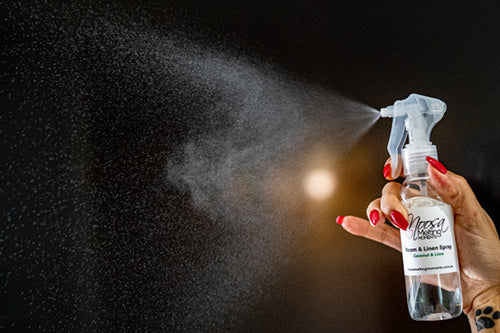 Collapsible content
Details

CocoSoy Candles

Our CocoSoy is a blend of purely natural coconut and soy wax. Where possible our candle wax is designed and manufactured in Australia.

Reed Diffusers

Our Reed Diffusers start with the highest quality diffuser base which provides superior scent throw for your diffuser. 

Room and Linen Spray

Our Room and Line Spray start with a high quality room spray base which is then mixed with the fragrance of your choice. (They are Pet friendly!)

Fragrance Oils

Fragrance oils are synthetic in substance, in that they are not formulated directly from plant origin. Having said this, many fragrance oils do contain a high percentage of essential oils. In general, fragrance oils work better in candles than essential oils, the reason being that many are fine-tuned for the type of wax, whereas essential oils are fixed in composition and can be difficult to work with.

Please read some of the following facts we are proud to relay about our fragrances:

All our fragrances adhere to RIFM and IFRA standards for safety and purity.
All our fragrances are manufactured in Australia.
None of our fragrances are tested on animals. 

Synthetic vs. Natural

When researching fragrance oils for the first time, you may be wondering what your options are regarding natural (essential) oils. Here's an overview of synthetic fragrance oils compared with natural:

Availability - Essential oils are not always readily available as they are extracted from plant sources that are susceptible to ever-changing climate conditions.
Stability and Consistency - As essential oils come from many different sources/countries, their composition can vary from batch to batch. This makes production consistency very difficult
Restrictive Creativity - The number of raw, natural materials available is limited compared to synthetic. This can restrict the variety of fragrances that can be created.

 

PRO TIP: Essential oils are called essential oils because they contain raw essence. Not because they are essential to health/wellbeing.
Ingredients

Made on the Sunshine Coast, QLD Australia
Environment Friendly

We offer candle and diffuser refills as an environmentally friendly option, allowing you to re-use the glass candle & diffuser jars.

Australian Made

Hand poured in Sunshine Coast,
Australia

Shop Online

With a secure store with all traffic
encrypted and your personalised
account for orders and history.

Wholesale Available

We support wholesale customers with discounted orders and shipping options.